Equipping the community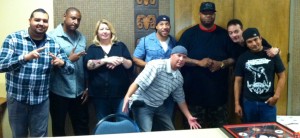 Our objective is to equip the community with the necessary education/awareness that will strengthen one's understanding of the disease to help prevent (preventative measures) and cope (intervention) with a diagnosis.  Working with the medical community, our education on the proper nutrition, exercise and other tools for wellbeing are promoted during workshops, and one-on-one counseling.
By forging collaborations with local healthcare professionals, health clinics and hospitals, we are able to broaden our scope of services to support and serve with dedicated and caring trained professionals who understand.
[showcase id="120″]